Kwame Alexander + Marc Tyler Nobleman + A Web Series for Kids. I Talk Songbook with MTN
This is interesting. Three people. All involved in the children's literature world, but two working primarily in children's books and the other making television shows, penning Caldecott and Newbery Award winners, etc. Put 'em both together and you get . . . Songbook.
Or, put another way, here's the press release from Marc himself:
---
Thanks to friend/fellow author Kwame Alexander and the Kennedy Center for the Performing Arts in Washington DC, I am honored to announce not a book but rather…
…(probably) the world's first part-reality/part-scripted, musical/literary, educational comedy web series for kids!

And the first streaming show I have created, written, directed, and produced. (Not counting this.)

The premise: nonactor middle schoolers who wrote a poem inspired by a book come to the Kennedy Center to set that poem to music with the help of a professional musician, the multitalented Randy Preston. Each episode features playlist-worthy tunes, songwriting tips…and a big surprise.
Fun (but originally frightening) fact: we had no rehearsals. The kids arrived at the imposing Kennedy Center and met host Vaughn Ryan Midder, Randy, and me mere minutes before we began filming.

Perpetual gratitude to Kwame and the Kennedy Center for giving me this opportunity, and thanks yet again to Kwame and Mary Rand Hess for executive producing with such finesse.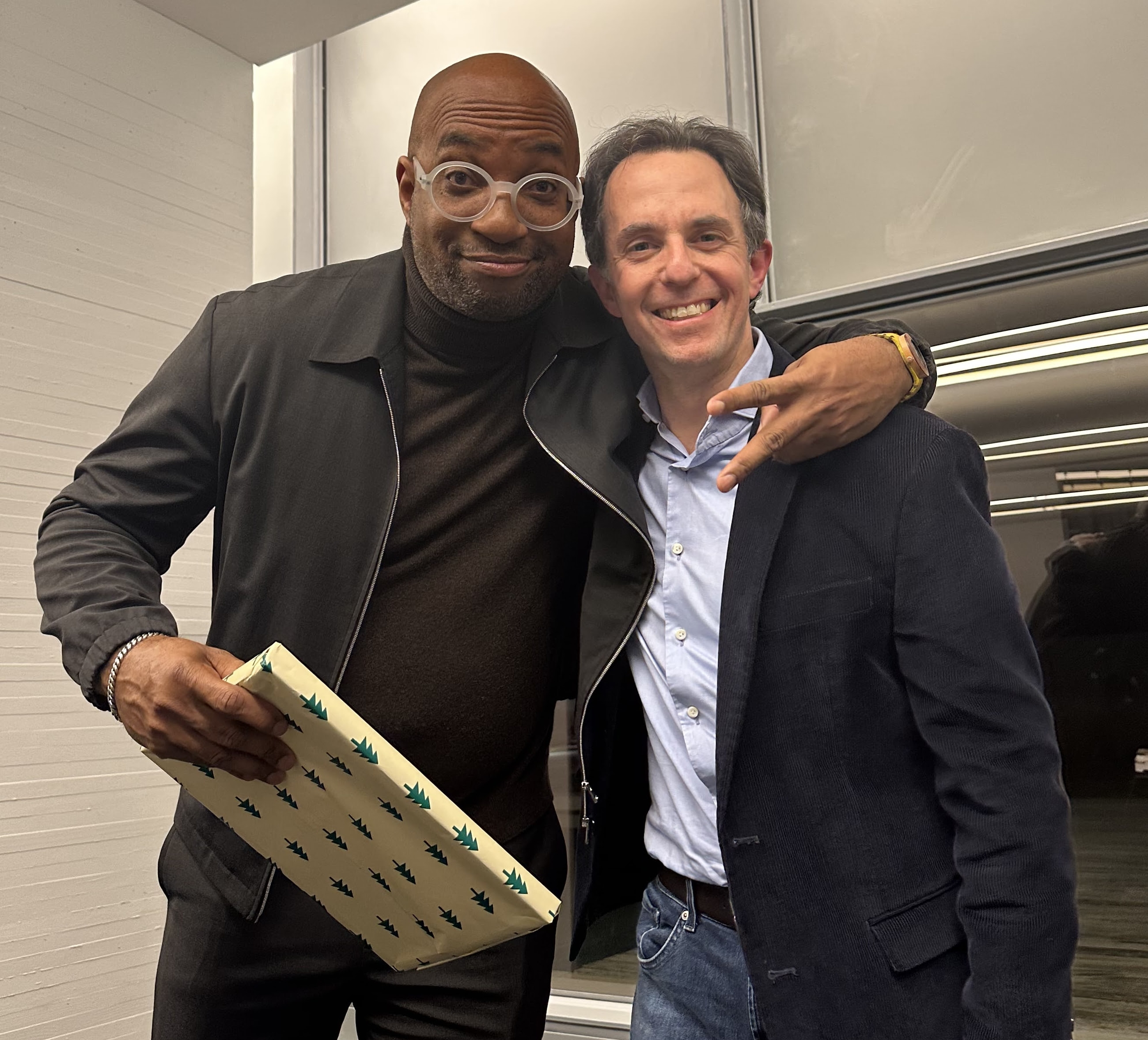 More details (and more thanks) here.

Watch season 1.
I'm a curious creature by nature. I had . . . questions.
Marc? He had answers:
---
Betsy Bird: So Marc, I've read the press statements but I'd like you in your own words to explain what precisely SONGBOOK is. From what I gather, this is a three-episode web series that's part reality show and part script. Is that right? What is it exactly?
SCROLL TO KEEP READING THIS POST
Marc Tyler Nobleman: Songbook is indeed a hybrid – and the first of its kind for the Kennedy Center. Maybe the first of its kind anywhere? Each episode, a young person who wrote a poem based on a book then sets that poem to music with the help of multi-talented professional musician Randy Preston. In short, it's a musical comedy reality show starring nonactor kids.
Thematically, it's a celebration of the creative process and the capacity of children.
Bonus: each episode features a different surprise guest.
The show's quick-witted host, Vaughn Ryan Midder, was largely scripted (though also encouraged to improvise). Randy was also scripted except for the songwriting segment. But the kids (and surprise guests) were simply being themselves. Amplifying the "reality" nature of the production, we did not meet any of the kids in advance. We did not know their personalities or how comfortable they would be on camera. They showed up and we began filming mere minutes later, with little wiggle room in the schedule. So it was composing without a net. Luckily, it did not turn into The Real Middle Schoolers of the Kennedy Center. In other words, no tantrums, trash-talking, or hair-pulling.
And the resulting songs are genuinely catchy. [one especially humbling reaction at that link]
BB: From what I can tell, you're the brains behind its creation. And while you've written many a biographical picture book, I know too that your book BILL THE BOY WONDER inspired the Hulu documentary BATMAN & BILL. How did you make the leap from author to the creator of an online series? And how did you get involved with the John F. Kennedy Center for the Performing Arts? Also in the news has been your Executive Producer, Kwame Alexander. I know that he's been busy also working on the reality show AMERICA'S NEXT GREAT AUTHOR. How did he get involved in this project too?
MTN: Turns out pandemics, amidst the large and obvious downsides, are catalysts for creative leaps.
Kwame and I have been friends since we bonded at our infrequently visited signing table at a conference about a decade ago (pre-Newbery, pre-documentary). We have similar passions, some obvious (love speaking at international schools), some not (love standing desks). Fast forward to 2020. Kwame already had a relationship with the Kennedy Center; they've produced a musical based on some of his books. Soon after lockdown began, they asked Kwame to pitch ideas for virtual programming, and Kwame generously asked me to brainstorm. By Zoom, Kwame, fellow author Mary Rand Hess, and I presented three of my ideas, and KC chose to do Songbook.
Part of the inspiration for the concept was the chance to give fellow creative performers a bit of paid work during COVID, since in-person income streams (theater, school visits) were on hold indefinitely.
Shoutout to DC-area organizations PEN/Faulkner Foundation, An Open Book, and Turning the Page and untold individual educators for helping us spread word that we were casting kids for Songbook.Kwame entrusted me to do more than I anticipated. I figured at most I'd write. I ended up producing and directing as well; Kwame and Mary executive produced. On the first day of shooting, when I showed up to a full crew – multiple camera operators, stagehands, lighting and audio techs – I didn't announce that this was my first time doing anything like this. I think that made it better for all involved.
BB: Having seen all three episodes, what was your takeaway from all this? Was there anything particularly surprising about the project that you didn't expect? And how do you feel about the final product?
MTN: Less of a takeaway and more of a (re)confirmation: kids rise to the challenge. For the young writers, every step of the process took courage: submitting a poem for consideration, showing up at an institution as storied as the Kennedy Center without knowing exactly what they'd do there, collaborating (on camera) with an adult they'd met mere minutes earlier, singing their new song in front of a live audience only an hour later.
I didn't expect to have as much creative freedom as I did. I felt privileged to work with such a smart and nimble cast and crew. I'm so happy with the final product.
SCROLL TO KEEP READING THIS POST
The night the series posted online, we had a launch party at the KC. First the crowd binge-watched all three episodes and each of the three kids got her own standing ovation. Their reactions – and the gratitude of their parents (and teachers!) – priceless. Then we ate and mingled.
BB: Can we hope to see more episodes after this or it is three and done?
MTN: Please do hope! In fact demand – on Twitter (tagging @MarcTNobleman, @kencen, @artsedge), in the comments under the episodes on YouTube, if you happen to bump into any Kennedy Center decision makers. I'm optimistic we'll do more Songbook.
BB: Finally, what else are you up to these days? What else is in store for you?
MTN: Songless books. Specifically, more comedy like The Chupacabra Ate the Candelabra and more untold nonfiction, including (you're hearing it here first) a truly jaw-dropping Holocaust story involving a woman I knew personally and a contemporary component that, to my knowledge, has never before been covered in a children's book. I'll unveil another non-book project later this year – I can't be specific yet, so I'll simply say this: it's questionable. And speaking of international school visits, in 2023 I'll have the honor of speaking in the UK, Taiwan, Malaysia, Cambodia, and Jordan. Thanks for asking!
---
Many thanks again to Marc for talking with me today. You can watch Season One of Songbook here. Check it out with your kids and let us know what you think!
Filed under: Interviews
About Betsy Bird
Betsy Bird is currently the Collection Development Manager of the Evanston Public Library system and a former Materials Specialist for New York Public Library. She has served on Newbery, written for Horn Book, and has done other lovely little things that she'd love to tell you about but that she's sure you'd find more interesting to hear of in person. Her opinions are her own and do not reflect those of EPL, SLJ, or any of the other acronyms you might be able to name. Follow her on Twitter: @fuseeight.