Fuse 8 n' Kate: Dinosaurs Divorce by Laurene Krasny Brown, ill. Marc Brown
This week's challenge from Kate: Deliver unto her a "classic picture book about divorce". So I conferred with my fellow librarians and we all agreed that there is really only one that would fit the bill: A little number from 1986. There's a number of reasons for this selection. The book remains popular to this day. This book is still in print (have they updated the terms since its original publication? This is unclear). And, as Kate points out, this is clearly more a guide than something you might read cover-to-cover. So how has it aged over the years?
Listen to the whole show here on Soundcloud or download it through iTunes, Stitcher, Google Play, PlayerFM, or your preferred method of podcast selection.
Show Notes:
Fine and Applied Paper Art
Open Studio
August 24 & 25, 2019
Reception: 4–7pm each day
Pilot Hill Farm
180 Pilot Hill Farm Road
Tisbury, Massachusetts 02568
+1(508) 696-9212
studio@laurenekrasnybrown.com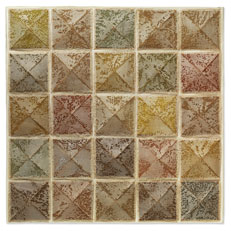 Extremes and In-Betweens
NAWA MA Members Juried Exhibition
August 1–September 1, 2019
Opening Reception 3 August, 4–6pm
Rocky Neck Art Colony
6 Wonson Street
Gloucester, MA 01930
+1(617) 699-2736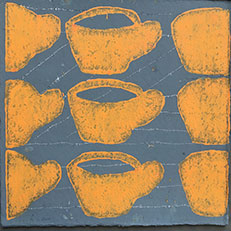 Solo Exhibition
Summer 2019
The Creamery
Stonover Farm
169 Under Mountain Road
Lenox, MA 01240
+1(413) 637-3344
And now it's time for our favorite show, Out-of-Date "Divorce Words and What They Mean". Let us review the more problematic terms and definitions.
Apparently there are only two ways for parents not to get along. You're hot or you're cold.
For the record, we don't mention this on the podcast, but can anyone figure out what this book might be referencing?
Precisely what you expect to find when perusing a picture book: Momma mixing her pills with her booze! As Kate rightly points out, the next panel should really be an image of Mama going on an ambulance stat.
Kate liked this page. She appreciated how the book could show a wide range of emotions associated with divorce.
However, she was less enamored of how super busy pages were, and the sheer variety in terms of patterns and colors.
Time for another appearance of an old timey phone. So I asked my 8-year-old daughter about this image and she was dismissive of the idea that a kid wouldn't know what a rotary phone is. When pressed, however, she said that so many older children's picture books contain these very phones that a lot of kids would be familiar with them already. That's a fair point. We assume our children won't recognize old technology, but if you're reading them picture book "classics" then they're often steeped in them anyway.
It's Christmas VS Hanukkah! Who! Will! Win?
To answer the question of whether or not divorce is up or down since 1986, I found this article from TIME Magazine, published last year. It says:
"Have you heard that statistic that half of all marriages will end in divorce? It's wrong. Even if that many marriages ever did disintegrate at one point, they don't now. Divorce is on the decline and has been since the 1980s in America (when that 50% divorce statistic took hold). Experts now put your chances of uncoupling at about 39% in the U.S."
Augh! What is this teacher doing?!? Lady, I know you're trying to be open with the classroom and show kids that they're not along, but I don't think that this is the best way to go about it.
And finally, the greatest mystery of them all: Why is this not a dinosaur witch?
Here is a list of Recommended Divorce Picture Books, for those of you interested in books that are slightly more recent:
Filed under: Fuse 8 n' Kate
About Betsy Bird
Betsy Bird is currently the Collection Development Manager of the Evanston Public Library system and a former Materials Specialist for New York Public Library. She has served on Newbery, written for Horn Book, and has done other lovely little things that she'd love to tell you about but that she's sure you'd find more interesting to hear of in person. Her opinions are her own and do not reflect those of EPL, SLJ, or any of the other acronyms you might be able to name. Follow her on Twitter: @fuseeight.